sutherland-high-school-2020-2021/
sutherland high school fees for 2022
Sutherland High School, Centrution is a public sector school. It is an English medium co-educational high school. One of the highest-ranked academic schools in the Gauteng province, South Africa. With excellent academics, leadership, sports, and culture, Sutherland has gained a well-known reputation.
Sutherland high school has been serving quality education for years. The school offers education to both boys and girls from grade 8 to grade 12 (matric). Almost 1200-1500 students are getting an education from Sutherland high school right now.
History
The Sutherland high school was established in 1987, Providing high-quality education and learning for 34 years. The school has a rich and diverse history filled with academic and sporting awards.
Fees for 2022
At the Annual General Meeting and Budget Meeting held on 19 November 2020 the school budget for
2021 was approved, which set school fees at R44 030.00 per pupil for 2021.
Payment Options
The commitment deposit of R4 500.00 is payable by no later than Monday, 30 November.
All pupils pay the commitment deposit.
The balance of R39 530.00 must be paid over 10 months in the following manner:
R3 953.00 each month from 01 January to 01 October
Matric results & Uniform
Sutherland has top-performing students in the field of sciences, mathematics, history, and arts. Sutherland High School has produced many well-educated and high-ranked students. Every student is encouraged and respected.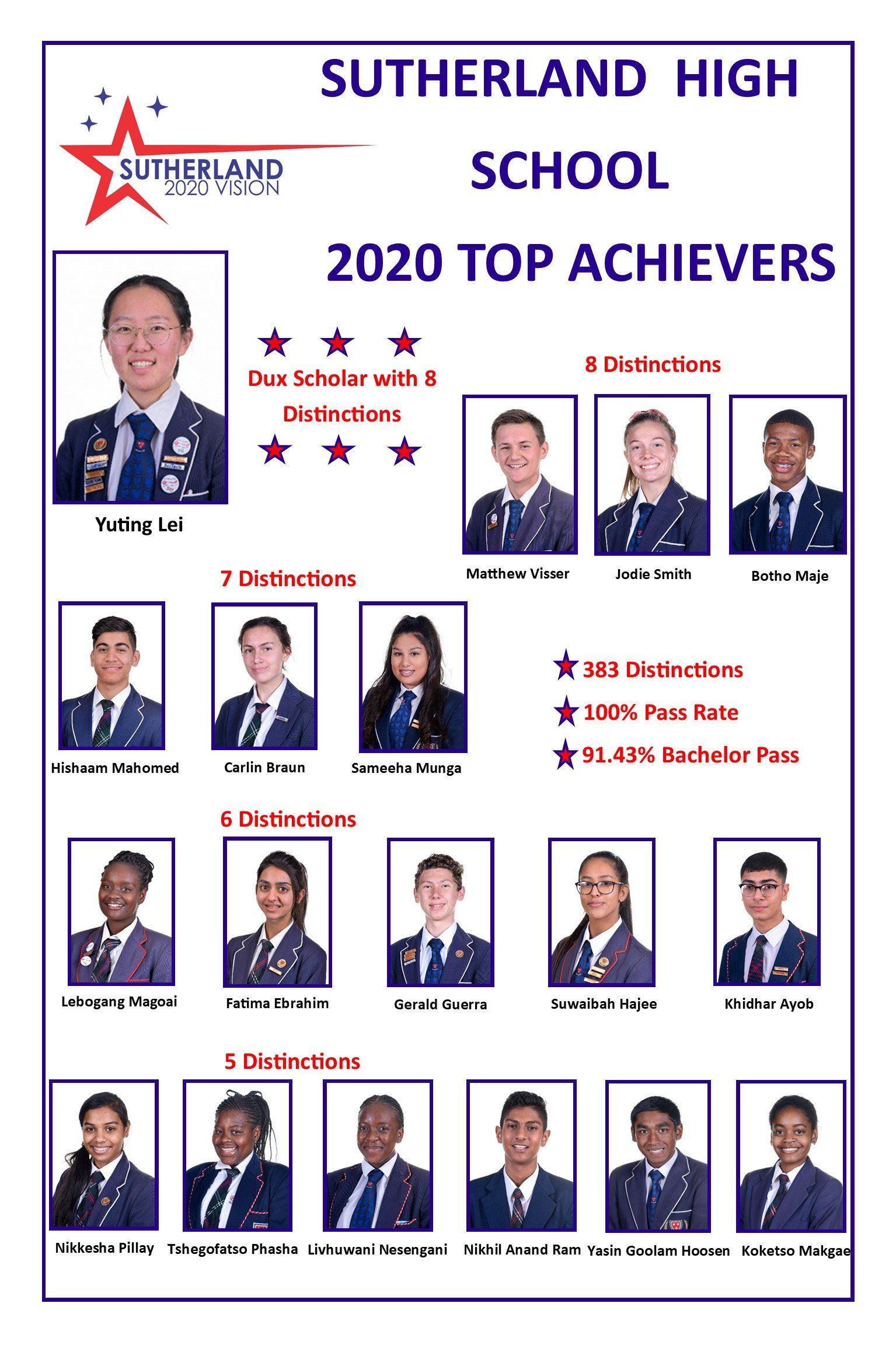 Academic Excellence
Sutherland High School is well recognized for its academic excellence. The progress of each student is monitored and facilitated by an expert academic empowerment team and well-educated teachers.
Sutherland high school application 2022
Sutherland high school application can be done on the following details:
Grade 8 Application
The school is continuing to make new improvements to strengthen the quality of education from grade 8 to grade 12, please contact the details above.
School Houses
Sutherland high school is famous for its diverse houses. There are eight houses in which students are divided, to compete in different activities. The houses are named as follows;
Argyll
Bays
Cameron
Dunrobin
Freskin
Lindley
Roberts
Seaforth
Co-curricular Activities
Co-curricular activities are an essential part of our education. These kinds of activities help students to develop their social skills and learn to work as a team. Co-curricular activities also teach students time management and commitment. Students learn to cope with loss and learn to deal with hardships.
The students of Sutherland High School not only excel on academic grounds but also take part in co-curricular activities, these activities help students learn and prepare them for the challenge ahead in life. Big grounds and courts, students easily practice and develop their skills better. Well- reputed couches are provided for the students to learn from the best.
Sutherland offers numerous sports such as;
Football (Soccer)
Golf
Cricket
Hockey
Netball (Girls)
Archery
Chess
Rugby (boys)
Shooting
Equestrian
Tennis
Swimming
Table tennis
Water polo
Squash
Sutherland`s Students win and excel in all fields with flying colors.
World record
The school set a world by solving 711 Rubik's Cubes in one hour, In September 2011.It was the world`s most solved Rubik cubes, breaking the previous record which was of solving 300 Rubik cubes in an hour.
Faculty and staff
Teachers are undoubted, the most vital members of our society. Teachers give students the purpose of life. They teach them to grow and learn in a comfortable environment. Teachers set their students up for success as citizens of our world, and motivate them to do well in life. Teachers guide the students. Teachers push their students to new heights of success and inspire them to become better people. Sutherland High School, Centurion has the best faculty members. The highly educated and well-trained teachers are the real assets of the school. There are more than fifty staff members working day and night for the betterment of the school.
Extravagant facilities
Sutherland provides many brilliant facilities to their students so they could learn in an amazing environment. Some of the extravagant facilities provided by the school are;
Canteen (with healthy food)
Library (A grand library with books from all over the world)
Playgrounds (Vast football, hockey, cricket grounds, and tennis court)
Computer labs (with advance and modern technology)
Science labs (well-equipped labs)
Big auditorium (for big exams and competitions)
Red Blazer program
"Red Blazer" is the highest leadership program in Sutherland High School. It highlights the main characterizes like Respect, accountability, and integrity of the recipient. It motivates students to do well. Below are some additions that are made to get the red blazer
Diversity
Diversity helps students to develop multi-cultural awareness. The culturally different approaches, help students to learn in a diverse way. Students develop social, behavioral, emotional, and wellness skills. Students evolve and learn to cope up with the diverse world. Sutherland high school is the home of diversity. It has a diverse student body with pupils from all around the globe. The majority of students are African but a large number of students are immigrants from other countries. There are students from India, Zambia, Zimbabwe Russia, Nepal, Pakistan, New Zealand, Germany, and many other countries. Sutherland students grow among these diverse students and learn high social skills.
Sutherland High school is one of the top-ranked schools in Africa. It is well-known and filled with modern facilities. Students are provided with the best. It is serving quality education for 34 years and continues to produce brilliant students.
Note that this is not an official school webpage and we advice guardians to visit the school for more information.
Sutherland High School news & helpful Links
We are sorry that this post was not useful for you!
Let us improve this post!
Tell us how we can improve this post?